---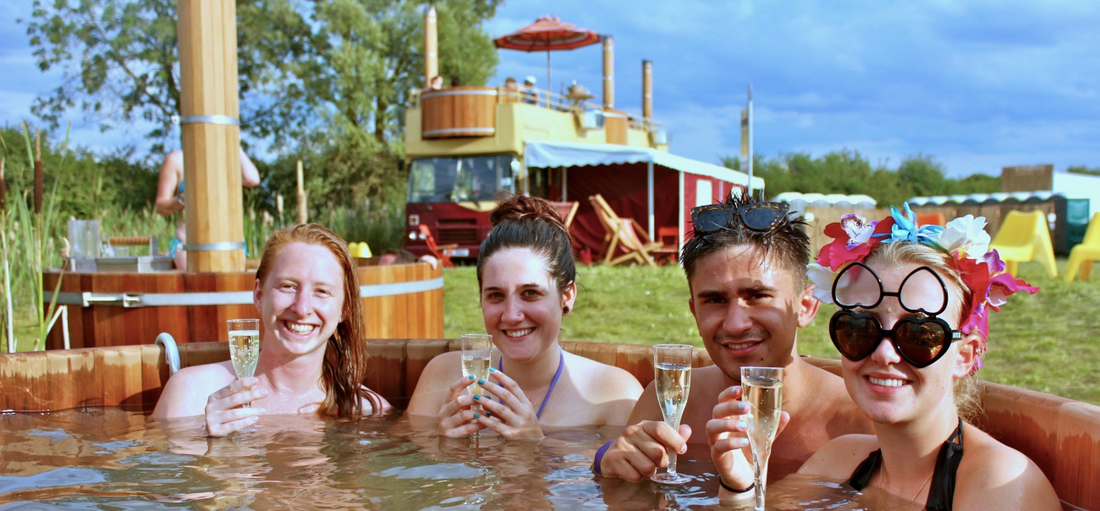 Secret Garden Party 2022
ONLINE BOOKINGS NOW CLOSED - PLEASE SEE THE ON SITE TEAM FOR ANY REMAINING TICKETS
We pampered Secret gardeners every year since 2011 until festival's temporary closure in 2017. Just a quick look on the Photogallery here and here will give you an idea how epic and popular our Sold out services were.
We're super happy to be back this year again.
Each ticket for TWO hours per person includes:
You can choose between the standard land-based hot tubs or enjoy the VIP status and stunning views over the area from one of the 3 wood-fired hot tubs on the top of our famous Hot Tub Bus.
Luxurious wood-fired hot tubs shared between six people (it is possible to reserve a hot tub privately for a group of 6-8 bathers)
Hot showers with shower gel and sink with mirror for shaving
Dry Finnish sauna with cold shower
Chill out deckchairs
Beauty corner with mirrors, hair dryers and GHDs
Unlimited drinking water
Changing tents
Prices are from £39pp + fees
Waiter service to the hot tubs from a dedicated Champagne bar will also be available.

Please note that our area is for punters wishing to switch off their party paws and those who preferring a calmer environment. Because we follow strict H&S rules, the capacity of the facility is very limited. Only a fraction of the punters get the chance to use our facilitites. We therefore advise you to book your tickets online to avoid disappointment.

Additional information and H&S:
Tickets are non-refundable but are transferable, subject to availability.

Please make sure to arrive at least 15 minutes before your session starts to allow for check-in procedures.

Strictly NO underwear or daywear allowed in the hot tubs and saunas. Bathing or birthday costumes only.

Please note that while nudity is allowed and accepted, we ask all participants to be considerate to fellow bathers by covering up when walking around the area. Fresh clean swimwear will be available to hire from the spa reception.

Each guest MUST take a hot soapy shower before entering hot tubs and sauna. Showers with shower gel are provided.
The spa hygiene and H&S are maintained to the highest standards and adhere to strict regulations. The hot tubs are discharged, cleaned, sanitised and refilled with fresh water every night. Please follow the spa rules and etiquette.
NO under-18s allowed in the spa
Due to H&S and licensing reasons, please do not bring alcohol into the Spa. For a truly lush experience, there is a Champagne Bar with service to the hot tubs.
We reserve the right to refuse your entry into the Spa if you are under the influence of alcohol or drugs
A flat £2.90 booking fee is included in the price of each ticket. This fee is non-refundable. This fee is not retained by Bathing under the Sky but is used to cover the cost of services provided by third partners pertaining to running an online booking service incl. PayPal fees, transaction and administration fees.
Please note that spa ticket is in addition to a valid ticket for the Festival.
ONLINE BOOKINGS NOW CLOSED - PLEASE SEE THE ON SITE TEAM FOR ANY REMAINING TICKETS
Standard hot tubs FRIDAY
Hot Tub Bus FRIDAY SOLD OUT
Standard hot tubs SATURDAY SOLD OUT
Hot Tub Bus SATURDAY SOLD OUT
Standard hot tubs SUNDAY
Hot Tub Bus SUNDAY SOLD OUT
---