---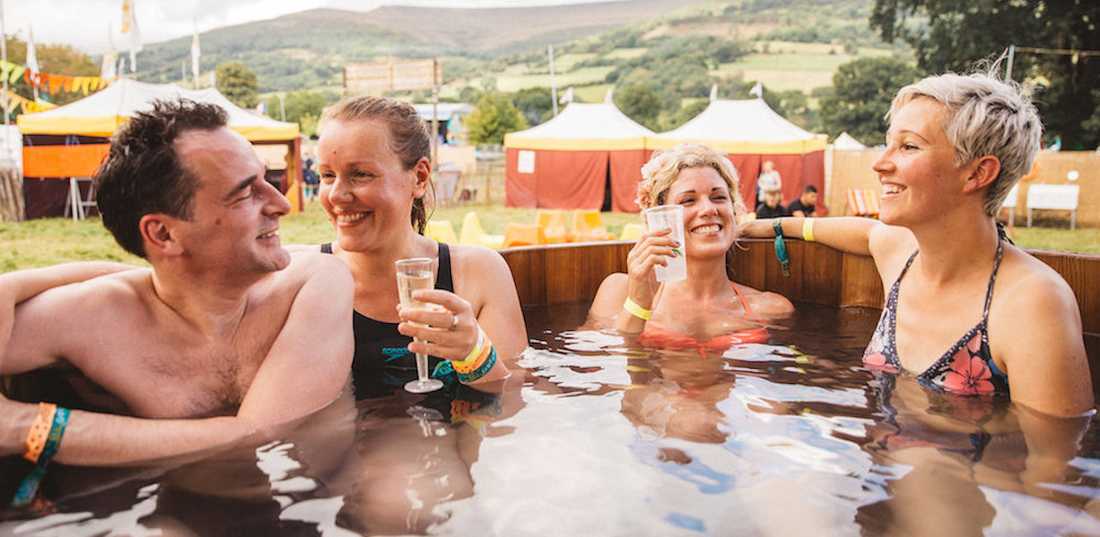 Green Man 2020
Bookings & opening hours
Thursday 2pm-8pm
Friday 10am-8pm
Saturday 8am-8pm
Sunday 8am-6pm
Your experience
Plug your phone away and get ready to recharge your body and soul.
Once changed to your swimwear, warm up and cleanse your body in steaming hot showers. Using organic body wash, prepare for your blissfully relaxing session.
Immerse yourself in one of the luxurious wood-fired cedar hot tubs enjoying the muscle-relaxing heat, fresh air and the sound of crackling fire.
Let our team pamper you with a complimentary glass of sparkling wine while keeping you hydrated with plenty of fresh drinking water.
If you desire, move on to the dry Finnish sauna and let the therapeutic cedar aroma and steam envelop all your senses. The 80-degree heat will slow your mind, gently washing away stress of modern lives. For a fully invigorating experience, step under the cooling outdoor shower. With your core temperature still warm after the sauna, the cold water will leave your skin feeling energised and alive.
Alternatively, cool down in comfy deckchairs relishing the fresh breeze while watching the open fire pits. Follow by plunging back into the hot tubs or sauna.

At the end of your session, glam it up in the beauty corner where hairdryers and GHDs are at your disposal so you can return to the party feeling and looking your best.
Each ticket for TWO hours per person includes
You can choose between the standard land-based hot tubs or enjoy the VIP status and stunning views over the area from one of the three wood-fired hot tubs on the top of The UK's only Double-Decker Hot Tub Bus.
Luxurious wood-fired hot tubs shared between six people(it is possible to reserve a hot tub privately for a group of 6 to 8 bathers to guarantee your exclusive use during the session)
Dry Finnish sauna with cold shower
Hot showers with shower gel and sink with mirror for shaving
One complimentary glass of sparkling wine served to your hot tub
Complimentary phone charging (please bring your own cable to ensure better charging)
One fresh sarong style towel
Chill out deckchairs
Beauty corner with mirrors, hair dryers and GHDs
Use of our bar with waiting service to the hot tubs - serving sparkling wine, champagne, gin & tonic and freshly made drinks
Unlimited, iced cucumber and lemon water
Changing tents
Please note that the spa is for punters wishing to switch off their party paws and those who preferring a calmer environment.
Because we follow strict H&S rules, the capacity of the facility is very limited. Only a fraction of the punters get the chance to use our facilitites. We therefore advise you to book your tickets online to avoid disappointment.
Additional information and H&S
Tickets are non-refundable but are transferable - PLEASE SEE BELOW
Strictly NO underwear or daywear allowed in the hot tubs and saunas. Bathing or birthday costumes only.

Please note that while nudity is allowed and accepted, we ask all participants to be considerate to fellow bathers by covering up when walking around the spa area. A hammam towel is provided for each guest. Fresh clean swimwear will be available to hire from the spa reception.

All guests MUST take a hot soapy shower before entering hot tubs and sauna. Showers with shower gel are provided.
The spa hygiene and H&S are maintained to the highest standards and adhere to strict regulations. The hot tubs are discharged, cleaned, sanitised and refilled with fresh water every night. Please follow the spa rules and etiquette.
NO under-18s allowed in the spa. Over 12's will be allowed in the spa providing that each is accompanied by an adult*. For those lucky to look younger than 25, in accordance with our Challenge 25 policy, our staff will be required to check your ID at reception check-in. Please take this as a compliment and make sure to bring a valid ID.
Due to H&S and licencing reasons, please do not bring alcohol into the Spa. You can make use of our Private Champagne Bar and have drinks served into your hot tub by our dedicated team.
We reserve the right to refuse your entry into the Spa if you are under the influence of alcohol or drugs
Please note that spa ticket is in addition to a valid Camping ticket for the Festival. Buy festival tickets here.

*please let us know in advance by emailing us and providing your booking reference number
REFUND & CANCELLATION POLICY IN LIGHT OF COVID-19
We are currently operating on the assumption that Green Man 2020 will be going ahead and we're going full steam ahead with our preparations. We are however closely monitoring the situation and will update this policy should there be new guidelines or developments.

Under normal circumstances, festival spa tickets are non-refundable but are transferable. However, should the festival be cancelled by the organisers, we will offer you a transfer for next year or a refund. A flat booking fee of £2.50 is charged on all tickets and this fee is non-refundable.

If we cancel our participation at a festival due to our inability to provide the services, we will refund or transfer all spa tickets. A flat booking fee of £2.50 is charged on all tickets and this fee is non-refundable.

If a festival goes ahead but you no longer wish to attend, we regret that we are unable to offer a refund. You will be able to transfer your booking to another person or use them next year*.

*subject to availability